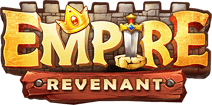 Pitched Battle
The cost of freedom is always high, but we have always paid it. The path we shall never choose is the path of surrender.
For aggression or plunder, for honor or justice, whatever your faith was, since you stepped into this world, you have chosen the way to the war. Pitched battle is the second PVP function after arena, but is different with it. In this battle, you are not alone, you will fight for your force, for your benefits.
You will get 15 marching times to plunder other lands, you will get 5 Repute and some loots for each battle, and your King will award you a reward chest according to your standings every day.
So don't miss it!